News
2023 Calendar and Photo Competition
You can submit a maximum of three digital photos for consideration by emailing low-resolution jpeg images to info@lincolnrspb.org.uk If the images are selected for a potential calendar we will require high-resolution files.
The photos must have been taken in the UK by the person submitting them. The copyright of all photos will remain with the photographer. The subject must be British wildlife or British wildlife habitats. No wildlife or habitats should be harmed, put at risk or unduly disturbed in the process of taking the photographs and the photographer must abide by the Code of Conduct for Wildlife Photography.
The photos must be in landscape format and ideally should be 3508 x 2480 pixels. Please state in which month of the year the photos were taken. The committee will decide which photos will be used for the calendar. Their decision is final and no correspondence regarding the results will be entered into.

The deadline for submitting photos is 31 July 2022. Any submitted after that date will not be considered.
Birdfair is back!
Under a new name and at a new venue. 'Global Birdfair' takes place at Rutland Showground, Oakham, Rutland LE15 7TW on Friday 15, Saturday 16 & Sunday 17 July this year. Tickets are already on sale at £12.50 per day or £35 for all three days. Tickets can be purchased in advance by visiting the website: https://globalbirdfair.org.
---
Bird-food sales
Unfortunately, we are no longer able to sell bird food as we don't have any volunteers available to organise it.
---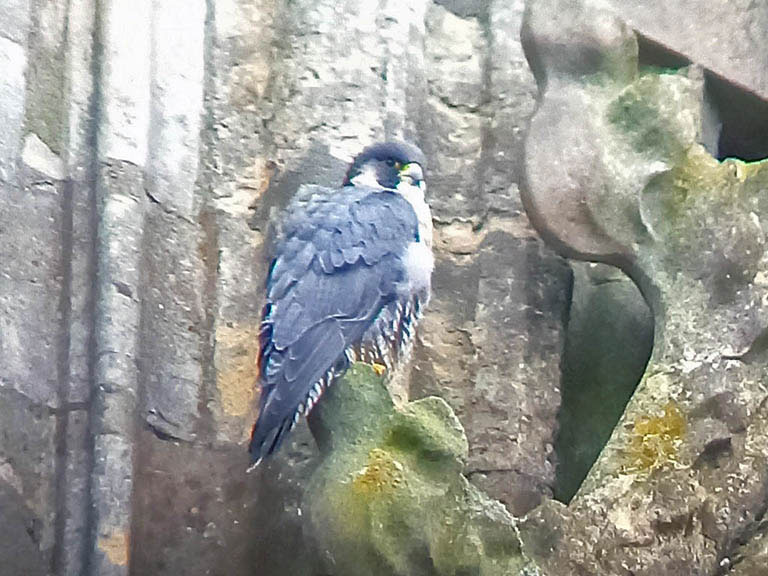 Lincoln Cathedral's peregrines
Unfortunately, Lincoln Cathedral's peregrines were unsuccessful again this year, the third year in succession they have failed to produce any young. The adult birds can still be seen flying around the Cathedral and roosting on the main tower. They are often quite vocal and can often be heard calling in the area.

Photo: One of Lincoln Cathedral's peregrines by Yvonne Allen.
---
Volunteering at Langford Lowfields
Do you have a passion for nature?
We're looking for volunteers to spend a few hours a week chatting to visitors here at our Langford Lowfields Nature Reserve. We are looking for volunteers for Thursday morning, Fridays, Saturdays and Sundays - half and full days available. You'll be based at our lovely beach hut and be able to get involved with pond dipping and events.
Click here for more information.
Free coach travel for children on Sunday coach outings
You can book one free coach seat for a child under the age of 16 for each adult seat you book and pay for in advance - any admission charges will still apply, only the coach travel is free. We realise that it can be expensive for families to visit nature reserves so we are making this offer to encourage more people to bring children with them and encourage them to take an interest in birds, wildlife and our wonderful natural heritage.
To find out more about the RSPB click on the RSPB logo or visit www.rspb.org.uk